My Profile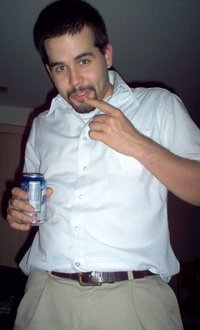 Name: Greg Chabala
Birthday: 5/14/1984
Gender: Male

Hosted since: 10/5/2002
Thursday, February 5th, 2009
Update: Posting my game collection online, for no real reason. Other thoughts, in 2008 Calyon Financial merged with Fimat to become Newedge, and now I work there. I'm in the same office as always, but I changed roles. Out of FIX Support, into Front Office Development, which is a full time programming position.
Thursday, August 30th, 2007
First update in a while it seems. I eventually got around to purchasing a PlayStation 3, and then I installed Fedora Core 6 on it. Because of and due to my experience with that process, I am writing a guide to doing that installation, which is available here.
Thursday, December 28th, 2006
I had more pictures to upload today, but I found Flickr only lets a free account have three albums. There's one new album there, and now I'm moving on to Picasa. The newest pictures are here.
Saturday, November 11th, 2006
People (Diane) keep asking me to upload Halloween pictures. However I have been feeling regretful as pictures are taking up most of my allotted web hosting space. So I'm trying Flickr out as an alternative. Find my pictures here.
Also, PlayStation 3 hits US stores Friday. Not like I'm going to run out and buy one, but I'm still excited.
Saturday, September 30th, 2006



It's probably worth mentioning here, that I've been hired full time at Calyon Financial in the eTrading IT department and I'm becoming quite comfortable with it. My focus is working with the FIX protocol, which is becoming a standard protocol in the trading industry. That also means I work downtown now, right next to Union Station, and for everyone that's wanted me to have lunch with them in the city, I'm available.
Thursday, July 6th, 2006
I'm back from Nashville with two National PBL awards, First Place in Visual Basic Programming and Fifth Place in Java Programming. All the pictures are online from the trip now, including our post-conference visit to Edwardsville to see old friends.
Thursday, June 22nd, 2006
The backlog of photos I've taken with my new Canon are now online in the gallery. Also, I will soon be travelling with Jeff to Nashville, TN for the Phi Beta Lambda National Leadership Conference. You can expect lots of pictures when I come back, and the award ceremony will be broadcast live on the internet Tuesday, June 27th at 7pm on nlc2006.com.
Monday, April 3rd, 2006
Degree conferred. They really wern't kidding about waiting to send out the diplomas, four months after the Commencement ceremony.
Tuesday, January 24th, 2006
Well, I got to feeling a little creative and adventurous the past couple days, so I threw a new feature into my site. The Photo Gallery. It was about time to get this going. It should grow to be the main photo repository on this site.
Saturday, December 10th, 2005



I'm graduating with my B.S. degree in Computer Science from SIUE on December 17th, 2005. I invite you to attend the Commencement ceremony, which will be held in the Vadalabene Center. The program begins at 1pm, but it is recommended that you arrive for seating at noon or earlier. For more information visit www.siue.edu/commencement or visit www.siue.edu/maps for maps of campus.
Sunday, August 14th, 2005
Shoutout to my peeps on theFacebook.com, where all the college kids go to share contact info, and not blog. Xanga, LiveJournal, and MySpace, I hate you all. Curse you for all the purposeless journal entries that now fill my Google searches.